Job Description (total positions: 5)
Knowing, promoting, implementing, and following up the universal hygiene standards/ precautions, bio-hazard prevention and infection control, security rules, and other protocols and procedures in the medical premises and ensuring high standards of hygiene of his/her working environment.
MINIMUM EDUCATION: Bachelors
DEGREE TITLE:BScN
MINIMUM EXPERIENCE: 2 Years(MSF experience would be an asset)
The Last Date for applying is Aug 17, 2021
Respecting medical secrets and confidentiality at all times.
Organizing and carrying out care and treatments according to medical prescriptions, and assisting during consultations, daily rounds and other medical procedures.
Participating in health education of the patient (and family) when necessary.
Carrying out admission, surveillance and follow-up of patients (i.e. assessment of the evolution of their state of health and the identification of any emergency situation or deterioration
Perform cleaning and minor maintenance for biomedical equipment used.
Fol-lowing the user manual and protocols and alert supervisor in case of malfunctioning.
Required Skills
Medical Writing, Medical Affairs, and Registered Nurses.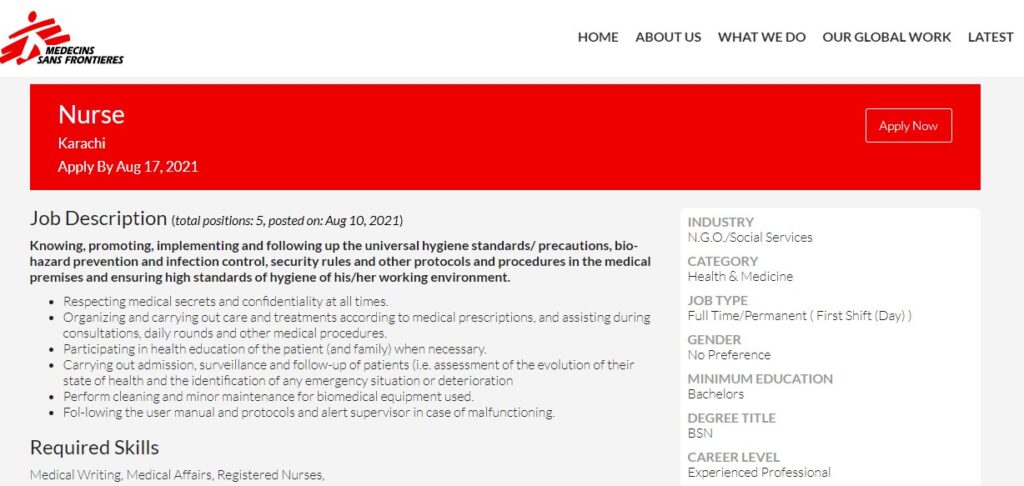 NOTE: All copyrights are reserved to their respective official websites of the job advertising rozee.pk and Medecins sans rontieres. This is just for educational and nursing job update purposes.