JOB DETAIL
Department: Global Health Directorate (GHD)
JOB POSITION: Nurse Aid – Ali Bandar
CAMPUS: Global Health Directorate (GHD)
EDUCATION: Matric with 1 year Nurse Aid Diploma
EXPERIENCE: At least 1 year of prior work experience
JOB DESCRIPTION :
Communicate politely to the patients visiting the filter clinic.
Check vital signs including saturation of the patients and document in HMIS.
Ensure documentation of height and weight of all patients visiting filter clinic for consultation.
To assist in the Appointments and token system when necessary.
To ensure that adequate stock levels are kept within the department and report any reduction to the nursing staff.
Checking the day-to-day cleanliness of the department and reporting any problems to the registered nurse in charge of the department.
Changing the bedsheets of a stretcher of the clinic.
To transfer and accompany patients to other Departments within the Hospital for treatment, under the direction of the Registered Nurse.
To demonstrate the highest regard and respect for the wishes, needs, and lifestyles of all patients, being accepting and non-judgmental at all times.
To discuss any difficulties with the senior nursing staff.
To learn how to use information systems and maintain accurate written information.
To report any concerns or untoward incidents immediately to the registered nurses on duty.
Maintains awareness of the patient and family's need for emotional support and understanding.
Listens to patient concerns and makes sure the patient and family understand instructions.
Maintains a positive attitude towards co-workers, patients, and visitors.
Maintains confidentiality in relation to all patients, healthcare staff, and documentation.
Assists patients in filter clinic, if needed.  Performs other duties as assigned and individual is qualified to perform.
Last Date: August 16, 2021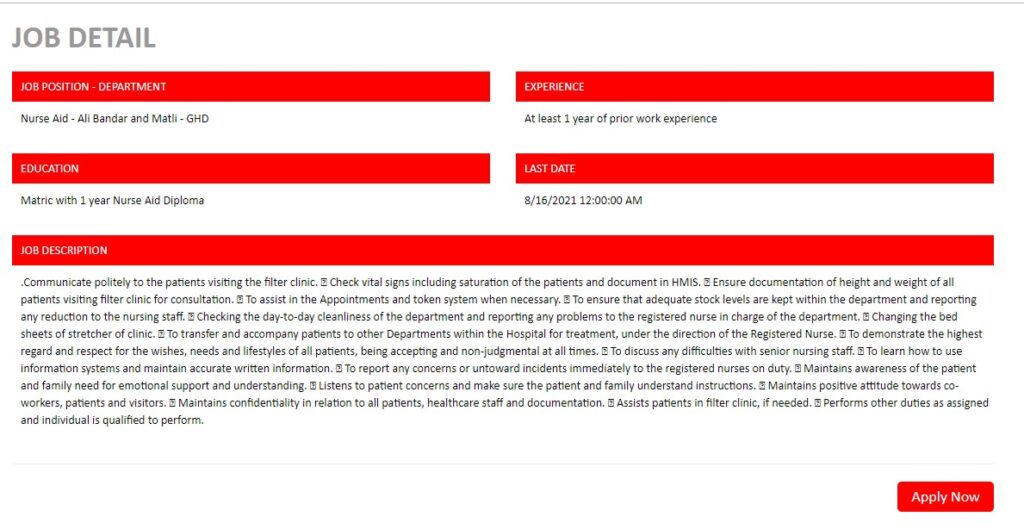 For an online application for the post, visit the official website of Indus hospital, click the link below: https://jobportal.tih.org.pk/JobDetail.aspx?PostId=4485
NOTE: All copyrights are reserved to their respective official websites of Indus Hospital. This is just for educational and nursing job update purposes.